What teachers and parents must know about the HCL Jigsaw platform?
HCL Jigsaw is a new, pioneering pan-India problem-solving assessment program aimed at building the culture of problem solving in India right at school level.
"Cultivating critical reasoning, thinking and problem-solving qualities in children help mould their brains to think innovatively and positively, preparing them to tackle situations in and after school life or higher education" Turning such statements into reality is possible by exposing your children to avenues that feed their creative minds and nurture their brains the way we nourish a plant.  
The Learning
A beautiful quote in How People Learn: Brain, Mind, Experience, and School, published by The National Academy Press, summarizes that young children are indeed capable of complex comprehension and more willing to do so. While there is a developmental aspect to children's abilities, there is considerable room for growth, skill acquisition, and understanding.
Competing World
Technology and innovation around us are rapidly evolving and demand that your children be prepared for the future with tomorrow's right skills and tools. Numerous types of research have consistently proven that problem-solving, critical thinking, critical reasoning, and collaboration skills need to be developed in the younger generation. This will bring out the hidden skills that help them move ahead with the challenges of the 21st century.
Our educational system aims to help the next generation succeed in life. One of the key highlights of National Education Policy (NEP)2020, which covers "There will be no stiff separation between arts and sciences, between curricular and extra-curricular activities, between vocational and academic streams. Students can select subjects of their liking across streams", highlighting on holistic development of education system while equipping the children to focus on 21st century skills is rightly addressed with the objectives set for the HCL Jigsaw platform. 
Attending Learning Appetite of Your Child
For over 18 months now, the world has changed a lot. We all use the internet and digital technology to work from home, online schooling, and dealing with social distancing. The recent pandemic has indeed taught us a lot. We learned about surviving by meeting basic needs and maintaining the norms of social distancing. Children are the most affected, hungry for social interaction, and disturbed by the lack of physical schooling, extra-curricular activities, and playing with friends.
With so many tweaks and fun-filled activities borrowed in their daily virtual learning routine, they still felt like they were missing something. As a result, parents and teachers are reviewing to engage children and induce creativity. In addition, there are several initiatives by organizations and agencies intended to keep the morale of children high.
The premium initiative designed to address the cognitive requirements of children's mood upliftment is HCL Jigsaw.
Human Potential. Multiplied.
Over the years, HCL has conscientiously set high business standards by way of providing sustainable, world-class products, solutions and services; a feat that has helped the organization unlock exciting possibilities or millions.
When young leaders of tomorrow are equipped with 21st century skills, they can come up with solutions which not just help in multiplying their potential but of communities at large. With an aim to create a vibrant community of young problem solvers, HCL has designed an assessment program HCL Jigsaw – a first-of-its-kind platform in India to assess critical reasoning skills in school students. HCL Jigsaw will assess students on key 21st century skills including problem-solving, critical thinking and reasoning, research, and creativity. These skills are fundamental to enable young children tackle problems head-on with innovative solutions as they grow and enter the workspaces.
About HCL Jigsaw
Teachers and parents are advised to get a detailed idea of ​​the platform's scope.
HCL Jigsaw is a carefully developed program that focuses on real-world issues and challenges in the form of competitions. In addition, these tools are designed to evaluate cognitive skills according to the age identified in the program.
Focused on students for Grade 6 – 9, the competition has two rounds:
Qualifiers: 40-min Critical Reasoning Olympiad; and
Finale: Theme based real-world Problem-Solving Challenge
Round 1, which is the Qualifiers, students will get Multiple Choice Questions, each attributing to the 10 facet of critical thinking and real-world problem-solving. The assessment will be adaptive, and the final evaluation for Qualifiers will be based on the participant's national percentile rank. The top 20% percentile will be awarded a Certificate of distinction, and the top 40% percentile will receive a Certificate of merit.
The finale will have two challenges i.e. collaboration round and individual round, respectively. Challenge I will have Top 20 percentile from each grade, that are split into teams of three and compete on decided theme. Three winning teams per grade (Total 36students) move to Challenge II that would entail a jury evaluation in which students would present the solutions to real-world problem statement that they have been provided.
The 4 Cs
HCL Jigsaw focuses on unmatched key skill sets from the P21 framework for 21st-century learning and emphasizes the 4 Cs, namely, critical thinking, communication, collaboration, and creativity.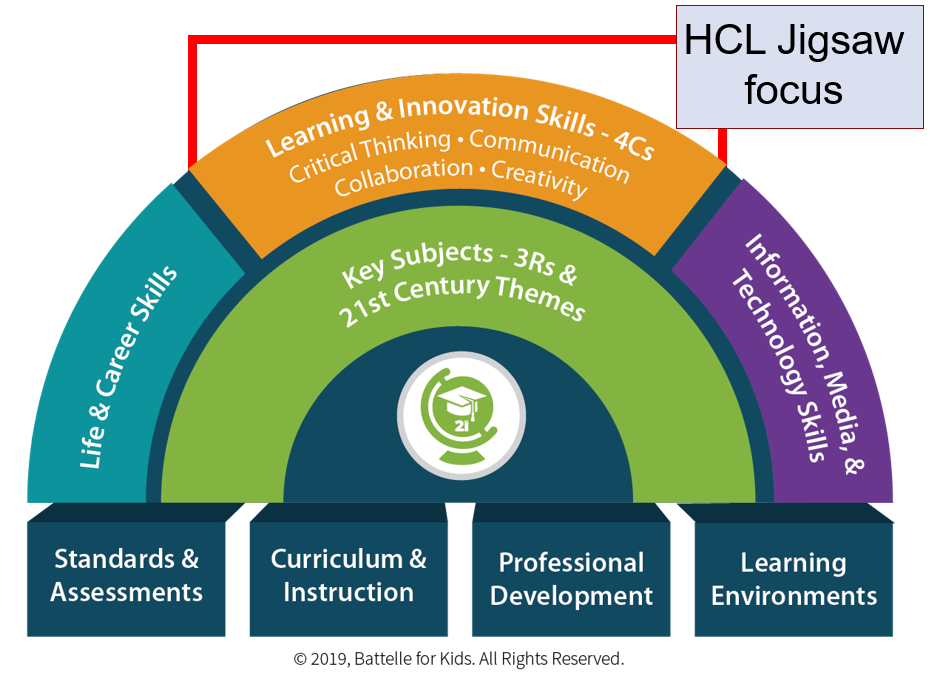 (Source:https://www.battelleforkids.org/networks/p21/frameworks-resources)
The assessments are intended to determine three primary attributes:
Research skills
Thinking critically
Communication process
The online assessment questions are structured appropriately for the ten assessment parameters. They are as follows:
Problem definition
Information gathering
Sound convincing
Being fair
Communicating Effectively
Scientific Mindset
Understanding information
Systems thinking
Forming conclusions
evaluation / justification
Each option is justified with a logical explanation in the Program details.
Many educators across the country acknowledge that HCL Jigsaw is an excellent program as regards creating a ready and responsible citizen in the future. The program is aligned with the new educational policy of 2020. "Critical Thinking and Problem Solving are the essential keys that open a world of opportunities in human resource productivity" according to educator Mrs. Ieline S Theophilus, Principal, Sri Venkateswara Vidhyalaya Senior Secondary School, Ayapakkam, Chennai, who believes HCL Jigsaw is THE way.
Why Partake in HCL Jigsaw?
Critical reasoning is not a subject that you can learn and memorize from a textbook; it is a skill that is acquired only through practice. The program includes sample questions for each grade that will help assess what is expected. These questions are based on a fun, real-world situation that does not require prior knowledge from books.
The goal of HCL Jigsaw is to promote 21st-century skills in children, especially critical reasoning, thinking and problem-solving. Introducing your child to HCL Jigsaw will help them work the 10 facets of problem solving.
Benefits of HCL Jigsaw
The program helps the interested community in the following ways:
Introduces essential life skills and prepares to solve real problems.
It helps to cultivate a culture of problem-solving.
It prepares students to be future ready.
Offers the right skills for your child that help them in this fast-paced world.
It helps in nation-building with an innovative and intelligent pool of young analysts.
It educates them on the importance of 4 Cs.
Recognizes and rewards students who can solve real world problems.
Identifies areas for participants to improve critical reasoning skills.
The Giveaway
Each participant receives a personalized skill assessment report and an e-certificate. Students who score in the top 20 percentile in the qualifiers will have the opportunity to participate in the finale. The top three finalists in each grade win. Each winner will receive prizes worth INR 1 Lakh including Laptop with i5 Processor, Color Printer with Wi-Fi, Bluetooth Speaker and more. HCL Jigsaw also offers learning opportunities at HCL Innovation Labs on real-life projects.
Conclusion
Critical reasoning is not a subject taught academically. Skills apply to each topic and every element of life. Techniques need to be mastered by learning how to analyze, contrast, compare and extract information. HCL Jigsaw is a competitive platform aimed at helping your child assess critical reasoning skills and putting them on an exciting lifelong learning journey. Designed by the industry's best minds, the program includes opportunities to win exciting prizes and create innovative solutions.